Libraries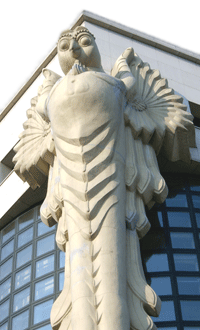 The main Library of the Technical University Vienna is located directly across Karlsplatz, at Resselgasse 4.
Accommodation
Our list of recommended hotels for your stay in Vienna. If you have questions about accommodations or booking, please feel free to contact our secretaries.
Arrival
by plane
From Vienna International Airport to our department
by train
How to reach our department
Our department is located across Karlsplatz. Argentinierstrasse 8 is the street next to the church (Karlskirche). Just walk past the church and cross the street.
You can reach Karlsplatz with the following lines:
bus line 4A
tram lines J, 62 and 65
underground lines U1, U2 and U4
When arriving by underground at Karlsplatz take the exit Resselpark and cross the park - the University is opposite the subway exit.
When arriving with the tram lines 62 or 65 at Resselgasse walk to Resselpark. Karlsplatz No. 13 is to the right hand side.
The tram line J takes you to Bösendorfer Strasse and the bus line 4A to the top side of Karlsplatz. Cross the Lothringerstrasse and the Resselpark.
Vienna public transport information:
Please note: the Vienna public transport ticket (Wiener Linien) is also valid on ÖBB trains inside Vienna (Zone 100). However, your train ticket is not valid on Wiener Linien. If you switch from train to public transport, remember to buy a Wiener Linien ticket.